Who REALLY knows?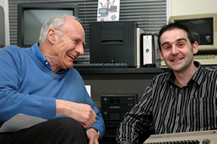 I'm a nearly 40 year old guy that has always loved all things techie.
I have a fantastic family, two children who make me laugh every day, I am lucky enough to run my own company and any spare time I have is spent on building a computer history museum.
Here's my page on IMDB >
Jason Fitzpatrick
Here are a few paragraphs written by local press :
Jason is the Founder Director of Pure Energy Multimedia. Established in 1997 and based in Haverhill, Suffolk, the company successfully surfed the Dot Com boom - and bust – and has now acquired a first class reputation for delivering high-impact results. It is particularly proud of its excellent client and staff retention. Jason has overseen its growth from 1 to 7 employees and further expansion is planned for 2007. He combines a sharp commercial mind with a deep understanding of the ways in which technologies can be pushed to create new possibilities.
Possessing an unyielding commitment to quality and innovation, he early on recognised the need to integrate communications processes. He sees the enormous potential in the
business capabilities of the web and especially its usefulness as a front line marketing medium.
Having acquired his first computer in 1980 at the age of 10, Jason acknowledges how deeply grateful he is to have had the good fortune to be born at exactly the right moment in time; this age of electronic technology suits him perfectly. He delights in every step forward made possible by each new development in computers. He is, however, no happy amateur, but a keen professional who has no problem with the challenges that a technological based business brings, including its demand for just the right measure of strategic and creative thinking.
His academic background is in electronics, in which he gained an HND. Apparently, his final papers were flawless – he received one of the highest marks ever recorded by his college – repeating an earlier performance in 'A' level Physics. Along with his several competencies, he is proficient in 9 programming languages.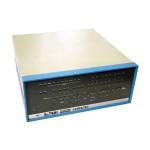 And, for the real technophiles, Jason is the proud owner of over 150 vintage computers including a Minivac from 1961 and an Altair 8800. The Altair 8800 is widely regarded as the world's very first personal computer and inspired the computing revolution. Produced in 1975, the first has disappeared, the second is owned by technical journalist Mark Stephens, the third by Jason and the next is on display in the Smithsonian Institute, Washington.