The Centre for Computing History was established to create a permanent public exhibition that tells the story of the Information Age.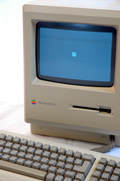 The
retro computer museum
preserves and presents a collection of important computers and related artifacts. It spotlights the people behind the inventions and records the information necessary to inspire and enthuse future generations.
Based in Suffolk, we believe the Centre for Computing History is the only museum dedicated to computers and their social impact in the United Kingdom.
The history of the computing industry is a fascinating subject. In a short space of time - personal computers have only really been available since 1975 - the computing industry has created the world's wealthiest man, witnessed some of the worst business decisions on record and generated the largest first year profits for any company in history!